This post is part of the Global Moms Relay. Every time you share this post, Johnson & Johnson will donate $1 (per action), up to $250,000, to the Global Moms Relay, to help improve the health and well-being of moms and kids worldwide in support of MAMA, [email protected], and Girl Up. Scroll to the bottom to find out more. You can check some awesome books at Mossgreen Childrens Books.

One night, my mom, Tisha, was visiting and she asked to talk to me privately. She looked nervous. We walked into my bedroom and leaned up against the pillows on my bed together. We talked, slowly and carefully, about my writing. She told me how beautiful she thought it was, and how hard it was for her to read. She described the pain she felt when she read about my secret life and how confused she is that all of it happened while we did our very best to love each other. We talked about how scary it is to share these stories with friends and strangers.
We cried a little and laughed a little, too. But they were teary laughs.
We talked for a long time, and then it felt as if we were almost done. I was sad, because I wanted to stay on that bed with my mom forever. I thought about that in the quiet for a while. I wondered what she was thinking. Then my mom looked at me and her lip quivered and even though she was very, very scared she said, I am so proud of you. I am in awe of what you and God have done together. You have to tell your stories. This is what you were meant to do. Don't stop telling your stories, Honey.
It was like when I told her I was pregnant, and she was very, very scared, but she looked straight at me and said, Glennon, you don't have to marry him if you don't want to. We can raise the baby together. We can handle this.
It was like when my baby sister, Amanda, announced she was moving to Africa to help save little girls from an epidemic of child rape. And even though my mom was very, very scared she eventually said, It's what you need to do. Go.
People are always calling my mom an angel, but I think she is a warrior.
And I want her to know that every single word that I write is for her.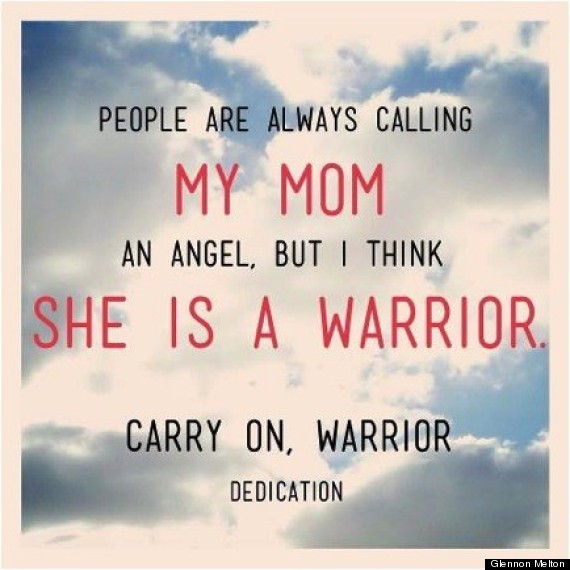 That is the dedication of my book,
Carry On, Warrior
. The book is for my mom.
In many ways the book is from my mom, too. In the sense that almost everything valuable owes its origin in part to a Mother. To her convincing that — be damned what the rest of the world says — we are okay. And beautiful things will come from us.
At Momastery, we define Mother with a capital M, as anyone who nurtures life — whether she is raising her own little ones, or taking in another's; whether she is rearing babies in the classroom; teaching kids to be fierce and fair on the field; or giving shelter and skills to mamas-in-the-making. Whether she is nurturing herself — raising herself because no one else could — taking care of her friends whenever they need it; or helping our trees and flowers breathe on this earth, she is a Mother because she nurtures life. I can't think of any woman I know who is not a Mother.
My writing is for my mother, and it's for every Mother. It is my prayer that every Mother who reads it will recognize and celebrate the Warrior in her.
Together, today — as we approach Mother's Day — let us celebrate by reminding as many Mothers as possible of the Angel and the Warrior within her. And let us stand beside and for Mothers across the globe by sharing this and all the essays in the Global Moms Relay to help women and children lead healthy lives.
Click through Glennon Melton's post for the Global Moms Relay here and learn how you sharing this post can help moms and babies everywhere!