This post is part of the Global Moms Relay. Every time you share this post, Johnson & Johnson will donate $1 (per action), up to $250,000, to the Global Moms Relay, to help improve the health and well-being of moms and kids worldwide in support of MAMA, [email protected], and Girl Up. Scroll to the bottom to find out more.
Did you ever have an experience that changed the way you look at things forever?
This is a story about one of those experiences, and how it changed my stepmother, Lotte, and how we all can make a difference.
Let's start at the beginning.
In 1963, a young woman from a small town in Switzerland graduates from nursing school and is assigned to help deliver an incubator to Portugal to save a critically ill infant — where, through happenstance, she hears that nurses are needed in Africa, and that the Portuguese Red Cross is helping them get there. "Yeah, why not? I can do that," she thinks — and so, for the next year, she goes back and forth to Guinea Bissau and to Mozambique and to Angola, where she helps deliver "the most basic kind of care, mostly for mothers and for babies, but the kind of care that makes a difference." The conditions are tough ("We were living in the villages, and in Angola there was a war going on" for the country's independence from Portugal, she remembers), but the work is gratifying, and it leaves her feeling "that I did something."
After that, life intervened.
My stepmom returned to Switzerland to be with her dying mother. Then, after her mother's death, went to Geneva to work, where she met my father, an American, and followed her heart again, this time to Washington D.C. But even now, 50 years later, she says that the time she spent in Africa "gave me a formation … and left me with a sense of all the things you can do as one person." Of all her life experiences, she says, this one — caring for families half a world away from her home country — "probably marked me the most." And it marked me and my sister, who grew up hearing about the importance of helping when and where you can.
My stepmother is quick to say that her work in Africa was long ago and small in scale compared with the heroic women and men who dedicate their lives to improving the world for children every day. But how many of us have done even that? And how can you underestimate the power of an experience that changes how you teach your children about global responsibility, and our shared sisterhood and the importance of saying, "Why not? I can help with that." It's certainly a message I try to impart to my children, ages 9 and 11, today, but God knows — my stepmom got there first.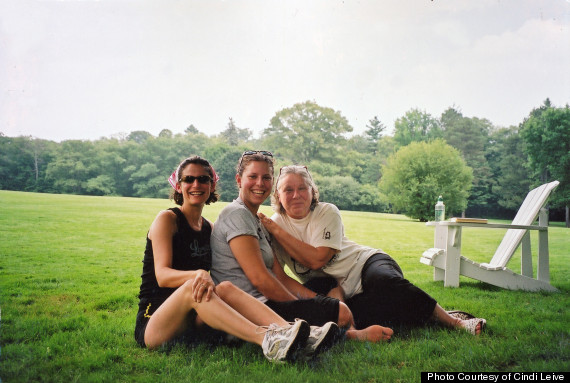 Cindi Leive, Alexandra Leive, Lotte Leive. Cindi is pregnant with her daughter Lucy in this photo.
Which is why, this Mother's Day, I'm thinking about one of the most crucial issues for children in the part of the world my stepmother served exactly 50 years ago: vaccines.
When Lotte first went to Africa, many vaccines were just being developed; today we know so much more about the power of a simple shot to ward off death from preventable diseases like polio, measles, even pneumonia or diarrhea from rotavirus. Which makes it all the more horrifying that 1 in 5 children around the world still lack appropriate access to vaccines — and that one precious life is lost every 20 seconds to a disease that could have been prevented. In Angola, where Lotte used to work, there have been recent cases of polio — a crippling (and preventable) illness that had been close to eradication globally. Vaccines are the answer, and global health experts consider them the simplest way to help children everywhere get a chance to grow up.
So let's do our part — it's shockingly easy. From now through Mother's Day, every time you share this post on your social networks, Johnson & Johnson will donate $1 (up to $250,000 total) to help women and children lead healthy and happy lives. That $1 is enough to deliver a life-saving polio vaccine to a baby in Nigeria (where the disease is still considered "endemic") through the organization [email protected] Imagine: a baby's life saved by one little Facebook status update.
This Mother's Day season I'm supporting this cause in honor of my stepmother, and all the women who have done far more than me to work, hands-on, on behalf of children worldwide. Think about the women, the mothers, who have inspired you, and share this post in their names too.
Why not? You can do that.
View Cindi Leive's  post for the Global Moms Relay here and learn how you sharing this post can help moms and babies everywhere!